E-learning: nuevas estrategias y tendencias
Palabras clave:
e-learning, massive open on-line courses (MOOCs), laboratorios virtuales, flipped classroom, internet de las cosas
Resumen
El objetivo de este trabajo es presen­tar un punto de vista personal sobre las posibles futuras tendencias en la ense­ñanza a distancia. El punto de partida de este estudio está representado por una revisión de las principales innovaciones en las tecnologías digitales y de infor­mación. Este paso es necesario, ya que la evolución de la enseñanza a distancia está estrictamente correlacionada con la evolución de la tecnología que puede ser explotada para aumentar la calidad de aprendizaje.
Los principales argumentos abordados en este documento son massive open on-line courses (MOOC), flipped class­rooms y la evolución de los objetos de aprendizaje basados en la web y en la tecnología de internet. En cuanto a los MOOC, realizar un análisis crítico de la situación de este tipo de aprendizaje es necesario para entender su posible evolución y/o su sustitución. Un gran número de estudios de caso demostra­ron la validez del flipped classroom, y la posibilidad de adoptar este enfoque en el aprendizaje electrónico es sin duda interesante. La última parte del artículo se dedica a las futuras tecnologías, tales como el aprendizaje móvil, los laborato­rios virtuales en 3D y el internet de las cosas. Como se ha expuesto, estas últi­mas innovaciones pueden impulsar la evolución de la educación a distancia, que ofrece soluciones reales centradas en el estudiante.
Descargas
Los datos de descargas todavía no están disponibles.
Citas
Aguaded-Gómez, I. [2013]: «The MOOC revolution: a new form of education from the technological para­digm?», Comunicar, 41 (17), pp. 7-8.
Barfield, W. [2015]: Fundamentals of wearable com­puters and augmented reality, United States: CRC Press.
Beetham, H. and Rhona, S. [2013]: Rethinking peda­gogy for a digital age: designing for 21st century learning, 2nd ed., England: Routledge.
Cardboard website by Google: https://vr.google.com/cardboard/ [Search: July 2016].
Chaffey, D. [2016]: «Mobile marketing statistics compi­lation», Smart Insights. Retrieved from: http://www.smartinsights.com/mobile-marketing/mobile-marke­ting-analytics/mobile-marketing-statistics/ [Search: July 2016].
DailyTekk [2015]: The 7 best 360º cameras and rigs for shoo­ting. Retrieved from: http://dailytekk.com/2015/09/08/the-7-best-360-cameras-and-rigs-for-shooting-insanely-awesome-vr-video/ [Search: July 2016].
Desai, P. R.; Desai, P. N.; Ajmera, K. D. and Mehta, K. [2014]: «A review paper on oculus rift-A virtual rea­lity headset», International Journal of Engineering Trends and Technology, 13 (4), pp. 175-179.
Falaki, H.; Mahajan, R.; Kandula, S.; Lymberopoulos, D.; Go­vidam, R. and Estrin, D. [2010]: «Diversity in smartphone usage», Proceedings of the 8th International Conference on Mobile System, Applications and Services.
Frankish, K. and Ramsey, W. M. [2014]: The Cambridge handbook of artificial intelligence, England: Cambridge.
Fuchs, C.; Boersma, K.; Albrechtslund, A. and Sandoval, M. [2012]: Internet and surveillance: the challenges of Web 2.0 and social media, England: Routledge.
Garrigos-Simon, F.; Lapiedra Alcamí, R. and Barberá Ribera, T. [2012]: «Social networks and Web 3.0: their impact on the management and marketing of organizations», Journal of Management History, 50 (10), pp. 1.880-1.890.
Gubbi, J.; Buyya, R.; Marusic, S. and Palaniswami, M. [2013]: «Internet of things (IoT): a vision, architectu­ral elements, and future directions», Future Gene­ration Computer Systems 29 (7), pp. 1.645-1.660.
Herreid, C. F. and Schiller, N. A. [2013]: «Case stu­dies and the flipped classroom», Journal of College Science Teaching, 42 (5), pp. 62-66.
Li, J..; Qi, G.; Zhao, D.; Nejdl, W. and Zheng, H.-T. (eds.) [2013]: Semantic web and web science, Springer Proceedings in Complexity.
Martini, M. [2014]: «How modern technologies solve laboratory's dilemma in distance learning», Digital Universities, 1.
McAuley, A.; Stewart, B.; Siemens, G. And Cormier, D. [2010]: The MOOC model for digital practice. Re­trieved from: http://www.elearnspace.org/Articles/MOOC_Final.pdf [Search: July 2016].
Nanney, B. [2004]: Student-centered learning. Retrie­ved from: http://ollyusofalhaj.ipgkti.edu.my/sumber/resosbestari/PENDEKATAN/scl/7%20SCL-Nanney.pdf [Search: July 2016].
Oculus Rift Website: https://www.oculus.com/en-us/ [Search: July 2016].
Onah, D. F. O.; Sinclair, J. and Boyatt, R. [2014]: «Dro­pout rates of massive open online courses: beha­vioural patterns», EDULEARN14 Proceedings, pp. 5.825-5.834.
Paterson, C. [1991]: «Neural network in high energy physics», Proceedings of the conference Computing in High Energy Physics, Annecy (France).
Rennie, F. and Morrison, T. [2013]: E-Learning and social networking handbook, 2nd ed., England: Routledge.
Rosé, C. P.; Ryan, C.; Yang, D.; Wen, M.; Resnick, L.; Goldman, P. and Sherer, J. [2014]: «Social factor that contribute to attrition in MOOCs», Proceedings of the first ACM conference in learning@scale.
TeSLA (webiste of the TeSLA project financed by EU): http://tesla-project.eu [Search: June 2016].
Tucker, B. [2012]: «The flipped classroom», Education Next, 12 (1), pp. 82-83.
Wayback Machine (internet website): archive.org/web/ [Search: July 2016].
Weichert, F.; Bachmann, D.; Rudak, B. and Fisseler, D. [2013]: «Analysis of the accuracy and robustness of the leap motion controller», Sensors, 13 (5), pp. 6.380-6.393.
Wen-Hsiung, W.; Jim Wu, Y.-C.; Chen, C.-Y.; Kao, H.-Y.; Lin, C.-H. and Huang, S.-H. [2012]: «Review of trends from mobile learning studies: a meta-analysis», Com­puters & Education, 59 (2), pp. 817-827.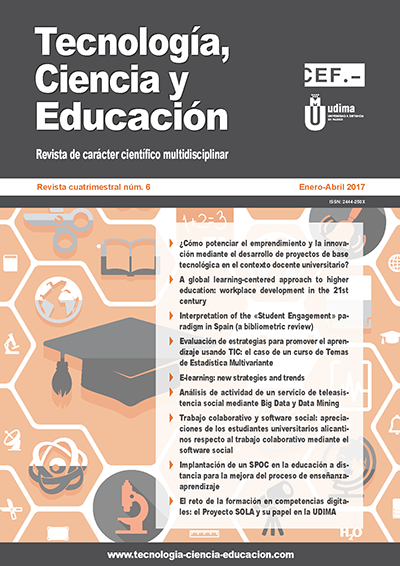 Descargas
Cómo citar
Martini, M. (2017). E-learning: nuevas estrategias y tendencias. Revista Tecnología, Ciencia Y Educación, (6), 75–87. https://doi.org/10.51302/tce.2017.116
Sección
Artículos académicos
Licencia
Derechos de autor 2017 Matteo Martini
Esta obra está bajo una licencia internacional Creative Commons Atribución-NoComercial-SinDerivadas 4.0.